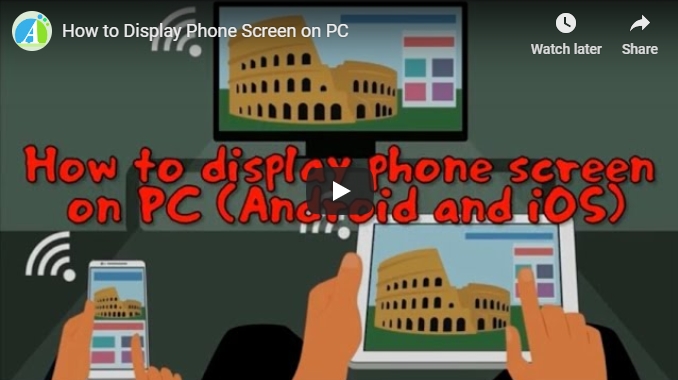 Four Ways to Display your Phone Screen on PC
Method 1: Employ ApowerMirror
The first tool you need is ApowerMirror! ApowerMirror excels in displaying your phone screen on PC and provides the powerful function in controlling Android from PC with keyboard and mouse. By following several simple steps, users are allowed to play mobile games mirrored on a larger screen by using mouse. What's more, it will be a perfect choice to enjoy movies with family on PC instead of the tiny phone screen. During the process, you are able to take snapshots and record screen.
For iOS devices
Go to Apple Store to download ApowerMirror app. Then connect your iPhone and PC to the same network. You can also use the download buttons below.
Swipe up from the bottom of the screen and open AirPlay on your phone. Then choose the device name including "Apowersoft". Soon you will find phone screen is displayed on your PC.
For Android devices
Turn on your USB debugging and plug in the cable to connect two devices. Then you will get a notification box asking for your permission to install the application on the phone. Choose "Accept." If it fails the installation, you are supposed to download it manually.
Activate the app on your phone and a window will pop out. Choose "Don't show again" and click "START NOW". Soon you will find phone screen cast on the desktop.

Note: If you have connected your Android to PC via USB cable for once, next time you could also connect them via WiFi and control your phone from PC. Click the "Mirror" button on your phone. Wait for it to detect your computer's name. Tap the name of your PC. Within seconds, your phone screen will be mirrored on PC.
Method 2: Use LetsView(Free)
The second tool you can use to display phone screen on PC is LetsView. It is a practical screen mirroring tool which is totally free! It is compatible with both Android and iPhone and the interface is very clear and simple. Using LetsView, you can record the phone screen, take screenshots and control PC from phone.
Download LetsView on your computer. You can also go to the App Store or Google Play to install it on your phone.
Connect your phone and computer to the same WiFi.
Open LetsView on your phone and choose the device you want to mirror.
Then your phone screen will be successfully mirrored.
Method 3: Use ApowerManager
For those who want to utilize a professional tool to display phone screen on computer, you could try this ApowerManager. It can transfer data between phone and PC, backup mobile files. It has the ability to restore contents from previous backups, take screenshots, manage multimedia contents, and many more.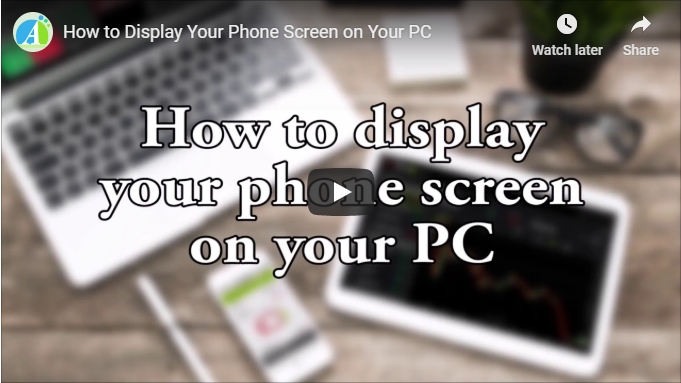 Below are the instructions of how to display phone screen on laptop using this software:
Install ApowerManager on your Windows/Mac.
Install ApowerManager app on your phone.
Connect your Phone and your computer via USB cable.
Click on the "Reflect" icon. Then you will get a notification box asking for your permission to capture everything that's displayed on your phone. Choose "Start Now" on your phone.
ApowerManager is an easy and practical way to display mobile screen on PC. Aside from real time screen mirroring, you could also do other stuffs such as transferring files or sending text messages by clicking the designated icons located on top of the interface.
Method 4: Use Android SDK and Droid@screen
Droid@screen is yet another tool that can display phone screen on computer. It is simple to use and best of all free. With this tool you don't need to have a rooted phone or pay highly priced mobile apps just to mirror your Android screen on PC. However, it requires a bit of patience and some technical know-how's.
First download and install Android SDK Tool on your PC.
Then download and install Droid@screen on your computer.
Make sure that you have the latest version of Java running on your PC but if not, install it first before proceeding with the next step.
Enable USB debugging mode on your Android phone.
Open Droid@screen on your PC.
Enter the location of adb.exe by typing in "C:\Users\Your Account Name\AppData\Local\Android\android-sdk\platform-tools\adb.exe".
Attach your Android device on your computer with USB cable to be able to display mobile screen on PC.
The main problem with Droid@screen is that you need to install two different programs on your computer before you can start using its service. Additionally, locating the Android Debug Bridge or adb.exe is somewhat complicated. It is definitely not for non-techie individuals or those with very little knowledge when it comes to file exploration. Also, it doesn't have extra features but only screen mirroring.
Conclusion:
There are many ways on how to display phone screen on laptop. You can choose from Droid@screen, ApowerMirror, ApowerManager and others. However, ApowerManager is a professional app that transfers data between different devices mostly though it can mirror phone screen on PC. As a result, ApowerMirror is specialized in displaying phone screen on PC and enables users to control Android from PC, which offers the excellent experience.