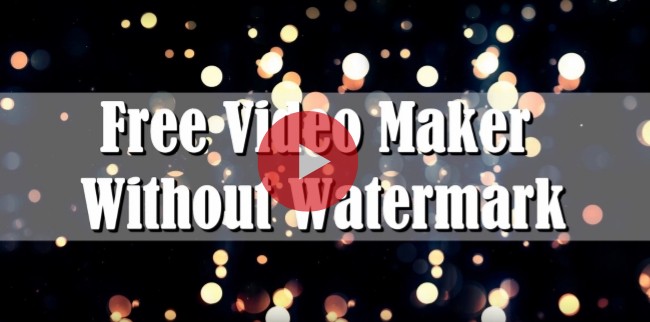 4 Video Makers without Watermark You Should Have
LightMV
As its name implies, LightMV is a lightweight video making tool. It is totally free to use and has no limitations on its functions. Usually, web services always ask their users to subscribe, or pay when they want to use advanced features, or put a big watermark on the video that basically ruins the entire thing. Even though these requirements are reasonable, I don't think you will like them. While on this site, these will never happen.
Once I log in to the web page, I can start making a video with my photos and theme templates it provides. It has a clean and intuitive interface, which makes producing a video a very simple thing to do. One more important feature of this free online video maker without watermark has is the output video quality. There is virtually no difference between the edited and the original picture. The biggest shortcoming is the number of theme templates. I hope the creators will add more awesome templates and introduce a feature in the near future that would allow me to upload my favorite music.
To use this web tool to make a video, visit its official site first on your computer, mobile phones or tablets. It works on Windows, Mac, iOS and Android. After that, click the "Get Started" button and select the template. We can view the template effect before we apply it to the picture video. Currently, there are 11 template styles we can choose from. Then we can upload pictures by clicking the "Upload Photos" button. If we want to add texts to the video opening and ending, we can click the "Your Title Here" to add it. When we think it's good, preview the whole video and press the "Produce" button to export it.
Note: Be aware that the processing time depends on the length of the whole video. If we do not want to waste time waiting for it being processed, you can have the video sent to your email address directly after the program has finished processing it.
Windows Live Movie Maker
The next free video maker without watermark is Windows Live Movie Maker. Even though it is somewhat out-dated, it is still a great program for beginners when it comes to creating and editing videos. Especially good for people who do not want to spend money on purchasing software. It has various visual effects and transitions and contains a lot of practical features which give us more freedom to customize our video, for example, add music and text to the video. Different from the first tool, this program supports the uploading of both pictures and videos. Together with its drag and drop feature, it will be much easier to process the video in the timeline. Below is a guide which will give us some help with producing a video in Movie Maker.
Drag and drop the videos or pictures to the right side of the timeline section. We can adjust the order with the mouse. After that, we can apply transitions, add effects, put music and add captions to the video via the functions in the toolbar. When we are done with creating our video, we can choose to save it to the computer in high quality or share it to our social media accounts.
iMovie
iMovie is to Mac what Movie Maker is to Windows. But compared to Movie Maker, iMovie is much more powerful in terms of stability and functionality. With this video maker without watermark, we can start making a video on iPhone and iPad, then go on to edit it on Mac with more advanced features. It has a lot of outstanding elements and features we need for producing a great video, dozens of animated titles and credit styles, special effects (picture-in-picture, split-screen and green-screen), creative video filters, and built-in music. iMovie's interface is straightforward, it is not too hard to use it even if it is the first time we use it.
Open iMovie on your Mac, click on "Import Media" and select the clips or photos you wish to import. Once all files are imported, you'll find them in the "My media" and you can drag them into the timeline. If you wish to add a title to the video, go to "Titles", select one from the available default templates, drag it into the timeline and then you can customize the text. To add background music, find "Audio" from the menu tab then select one from the pre-uploaded files. You can also add filters and effects for the video in the clip inspector. Now you can preview and save the file by clicking on the "Share" > "File" to save the movie to our computer. You can add a description, tags and choose the resolution, quality and compression rate for it.
Remarkable Video Makers without Watermark You Can Rely on
BeeCut
As its website said, BeeCut is an incredibly easy video maker by which anyone can create stunning videos in no time with its clean interface, simple software operation and rich functionality. With it, people cannot only produce video in the aspect ratio of traditional 16:9, 4:3 but also in 9:16, 3:4 and 1:1, which makes it quite convenient and easy to share videos on social networking apps like Facebook, Instagram and TikTok, etc. More than that, as a desktop video maker, BeeCut is much more stable than the video making apps and has a great number of fantastic features, for example, more choices for the filters, borders, transitions and special effects. When it comes to exporting the video, it also gives you the freedom to choose your preferred quality.
Run the software and choose the aspect ratio to start making your video.

Import your video materials into the "Media" area. It supports images, audios and videos.
Drag the files to their respective tracks on the timeline, and make basic editing, like splitting, cropping on them if needed.
Apply the filters, overlays, transitions, animations and even annotations to the video.

Export the final video if it is okay with the quality and format you want.
ApowerShow
ApowerShow is a professional video maker without watermark. It is a reliable and convenient piece of software that can help us turn photos and video footage into a cool video with high quality. It builds on different theme templates. Users just need to upload the photos and videos, choose one from the thematic templates, add background music and then let the magic happen. It can not only let us make a video, but also create a split-screen video. Due to its clean and super easy interface, people can get hold of it in a very short time.
Under the "MV" tab, hit the "Add Files" button to upload photos and video clips.

Navigate to "Theme" on the right side then select a template to apply to the video.
Go to "Music" > "Add Music" to upload the music file to the software if you want to use your favorite one instead of the default music that comes with the chosen template.

Preview the whole video, click the "Export" button then choose the resolution for saving your video.
Apart from making videos, this software has several other important functions. You can use it to convert files between different formats and devices, enhance your videos with its editing feature and even record some great video materials on the web.
Do you have other suggestions for free video maker without watermark? Leave your opinions below and let us know.